Why Should You Hire A Luxury Toilet?
For all the things we can hire these days, there are only a few that we actually can't do without. If you're planning any sort of event and are expecting a good crowd of people, then you're going to need some toilets. For all the things you're going to need to consider when you're planning a get-together, you might not have thought about it before, but hiring a luxury toilet is always a good idea.
Portable Toilet Event Hire
​We know what you're probably thinking. You've hired a venue and they've got toilets already, so why do I need to hire some? It's a good question, but also a little short-sighted if we may be so bold. Instead, think about hiring luxury portable toilets as an additional bonus point for your guests. They're something you won't appreciate until you need them and by then, you'll look like a forward-thinking genius.
The first reason to hire high-quality loos is that not all toilets are created equally. You want the best party, catered with the best food, great music, fantastic guests all gathering together to celebrate something special. Relying on the toilets in the venue is a lottery. Sure, they might be 'OK' when you first take a look, but that's not what you're going for really is it? Hiring a luxury portable toilet removes the risk and ensures that your guests can spend even their most private moments in luxurious splendour. They will arrive in pristine condition, spotlessly clean and working perfectly.
Even if the venue's toilets are good enough, by the time the beer, wine and soft drinks are flowing freely and nature calls, the question becomes are there enough of them to cope with the demand? We all have to go at some point. If you're having a large event, the chances are that there won't be enough to accommodate everyone comfortably. They also won't be serviced during the event, so the condition is only going to deteriorate. Hiring some additional toilets gives you peace of mind and gives your guests somewhere to go (in both senses of the word) that's going to look fantastic throughout the night.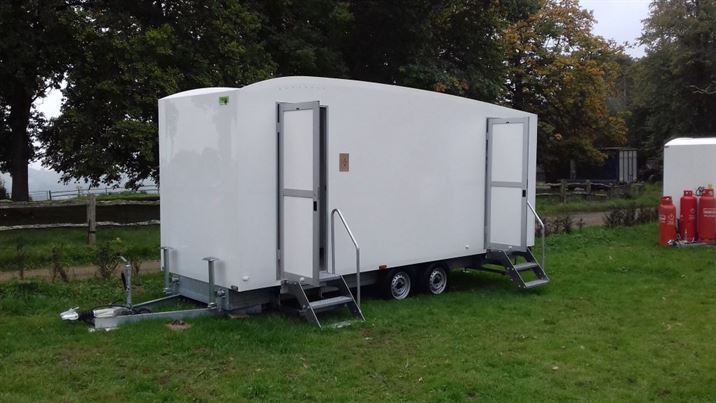 Planning Toilet Event Hire
​Let's face it, there are enough stresses to contend with when planning a party, which is another reason why hiring some toilets works. Once you've placed the order, you can rest assured that they'll arrive ready to go, just like your guests. You won't need to worry about organising a water supply because they'll have it built-in. Forget about where the waste goes because the hire company will arrange that. They'll arrive, work perfectly and give your event additional kudos knowing your guests more needs will be taken care of.
We hope we've convinced you that hiring a luxury, portable toilet is not only a good idea but one that will bring any number of benefits to your event. People remember parties and celebrations for any number of reasons; the great times spent with family and friends, the fantastic food and the shapes they get to throw on the dance-floor. The toilets aren't often a memory that lingers (unless they're blocked), but if the venue's facilities aren't good enough, or worse still don't work at all, it's going to be something they'll never forget. You want your party to be remembered for all the right reasons, which is why hiring toilets makes perfect sense.
Thank you for reading this month's blog. To find out more about portable toilet hire, give us a call on 0116 254 4999 or please feel free to fill in the enquiry form on our contact page today.