Types of Portable Loos
​Portable toilets are the hero in the world of events. Creating the event of your dreams and making sure things are in place and run smoothly can be really challenging. You start off with the perfect idea in your head, but things change and with the unpredictable weather it can be challenging to know what to do and always feel like you need that backup plan. you need to ensure that your guests are comfortable at all times portable toilets is one of the things you need to make sure you have sorted out.
What Events Require Portable Toilets
​Having the use of portable toilet hire is really useful and also means that you can host your event in a marquee or an unusual place. Portable toilets will work at any event you have such as:
·Weddings
·Business functions
·Sporting events
·Concerts
·Village or community fairs
·Building and construction sites
Even if there is a building at the event portable toilets are still a great option if you have a high volume of guests.
Types of Portable Toilets
​We understand that there are a number of different occasions that you might need a portable toilet for hence why there are different styles of portable toilets. We have luxury wedding toilets, baby changing and disabled toilets, urinals and standard portable toilets, we also have site toilets for construction workers. It's vital that you cater for all the guests at your event hence why we think it's significant that you do ask if anyone is disabled or requires baby changing facilities. Our main goal and priority are to make sure that every guest is able to feel clean, refreshed and ready to continue with the celebrations or work.
The common misconception many people have about portable toilets is that they are only suitable for construction sites and festivals this is due to the fact they have been painted in a bad way over the past years. Due to the opinion on portable toilets, people often think that they are smelly and dirty, however, this is not the case in any of our toilets they are all clean and guests are able to use them and feel comfortable afterwards.
Portable toilets are very convenient due to the fact that they get delivered to you wherever you require. You will have reliable service with accurate delivery to make sure there is time to set the portable toilets up in like for guests to come. There are many benefits of hiring a portable toilet, some of these are the convenience and if needed they could be transported to another location at the last minute if the English weather lets your down for the event.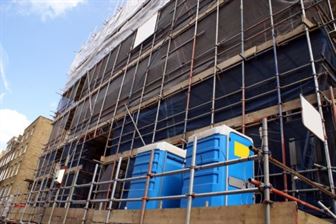 ​We hope that our blog has informed you about portable toilet hire for different events and the types of portable toilets. If you would like a portable toilet for your event or construction site, please feel free to call us today on 0116 254 4999 or head over to our website for more information.