Thinking outside the cubicle – hiring a portable toilet for a construction site
​You've probably used a mobile toilet a few times in your life, but what do you know about them? Renting a toilet is easy these days, but what do you need to consider? Are all toilet cubicles the same? Mobile toilets are small and modern essentials, which are also known as portapotty, or portable loos. A mobile toilet can be as simple as a concert plastic container containing only a toilet, or as generous as a luxury toilet cart for a movie set.
Mobile toilets can not guarantee the success of an event, but can easily ruin an event, but few of us waste a second thought about these useful and necessary conveniences. When planning an outdoor event or setting up a construction site, you'll quickly realise that choosing the right mobile toilet for your event can mean a lot.
Versatile and flexible
​Most of us know the small mobile toilets are made of lightweight plastic. These toilet cubicles, used in outdoor events and on construction sites, serve as a temporary toilet and can be easily positioned anywhere.
If required, mobile toilets are also supplied with antibacterial hand sanitizer dispensers, or even with a separate internal hand wash station containing soap and paper towels. The waste tank contains strong deodorizing chemicals to disinfect waste and eliminate bad odours.
Special mobile cabins incorporate extra equipment such as baby changing facilities, and can even be used as a shower or changing room.
The advantages or hiring a toilet
Convenience – they're much easier to position and move around than stationary toilets.
They provide access to a sanitary hand washing station
During construction projects, providing a portable toilet close by reduces the amount of time that workers spend looking for or walking to a loo – making your project more efficient.
No complex installation
Increased comfort for your employees/project workers
They can easily be transported from A to B.
Flexibility – there are a number of different options to choose from depending on your requirements.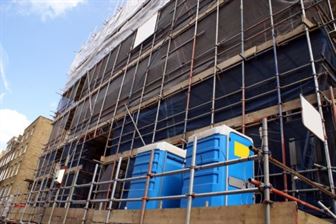 Toilet hire
​Before you sign a lease, you should pay attention to several details, since every event, be it construction or an event such as an outdoor wedding or festival, has specific needs. The most important decision before you hire a toilet is to determine how many toilets are needed.
Cost of a toilet rental
​The price varies greatly depending on the event type, region, quantity, size, toilet type, length of use and accessories. Costs may increase if your event is subject to local regulations, including the use of Disability Accessible Toilets and Occupational Health & Safety compliant toilets to meet building site standards. The costs depend on delivery, location, equipment and service charges.
The biggest factor in pricing is the cost of transportation and service. Toilets require a lot of time on maintenance, cleaning and delivery.
​If you have an upcoming construction project that you'll need to provide portable toilets for, please feel free to get in touch on our contact page or by calling us on 0116 254 4999.