After spending the festive period in lockdown last year, there are lots of exciting opportunities for event planners in 2022. You might have everything sorted for your next event. Your venue, theme, dress code, food, and drink are all sorted. However, many people overlook the problem of plumbing, especially if your party is taking place in a marquee.
Events that take place outside in a marquee may not have toilets. Even at event venues with toilets, if there aren't many available this may mean that all of your guests will be queuing to use the one or two toilets available. As well as added inconvenience, when toilet facilities are used by too many people this could lead to plumbing problems.
Why Choose Toilet Hire?
Let's say you have decided to host a party at your humble abode and therefore plumbing is not an issue. However, with the normal numbers of a household exceeded, strain can be put on the plumbing if there are only one or two toilets available. If for whatever reason, the plumbing system were to go down on the night of the event or thereafter, needing to await a plumber will be inconvenient, costly, and not to mention, put a dampener on your party.
There is also the added inconvenience of many people traipsing in, out, and around your house all night, which you may be put off by. We have a solution to prevent the plumbing from failing and guests entering uncharted territory within your property – portable toilet hire.
Luxury Toilet Hire For Your Event
If you're hosting an event, consider luxury toilet hire to help your guests have the best time possible. Designed for all gatherings, these portable loos can support events with up to 175 people over 8 hours and can easily be installed into gardens and other locations with minimal space. It's vital that luxury toilet hire is given the appropriate thought in advance to accommodate everyone's needs. Some guests may need step-free access or portable toilets with extra room if they're wheelchair users.
The luxury toilets are separated for men and women and come equipped with soap, hand towels, toilet rolls, mirrors, and waste bins. There is also ample lighting in the form of external flood lights and internal LED lighting, so you won't have to worry about not being able to find your way to the toilets in the dark.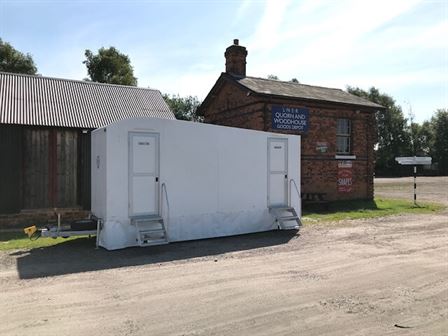 The luxury toilet trailers are self-contained, only requiring a standard 13 amp to operate the lighting. If you don't have access to power, at Loos For Hire, we offer generator hire to help you host an unforgettable event without any problems. Contact Loos For Hire today or call us at 01162 544999 to speak to a member of our team and discuss your portable toilet needs in time for the festive season! We have been providing exceptional toilet hire services for years and make sure that our customers are fully satisfied with their experience.