Outdoor sporting events were once notorious for their portable toilets; unsightly, unhygienic, and smelly. However, the introduction of luxury toilet hire has provided event organisers with an answer to outdoor toilet facilities that guests won't dread!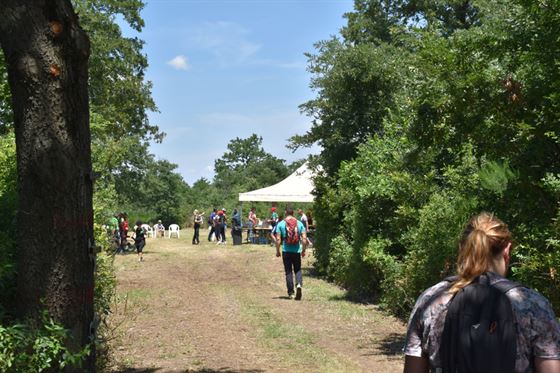 Why Hire Luxury Toilets For Your Sporting Event?
When it comes to sporting events, we know the importance of having good toilet facilities. Long queues and inadequate amenities are almost enough to ruin the big event itself. Remotely located sporting events in particular often prove the biggest inconvenience when it comes to finding reusable and comfortable loo facilities that consider the needs of both staff and guests.
Furthermore, outdoor sporting events usually mean a large number of spectators and participants who are likely to frequently need to use the bathroom. Historically, this has posed real issues for events in remote locations, where the toilet facilities had not been adequate.
If you consider a marathon, for example, toilets are not only required for a large number of spectators but also a large group of runners. Should they need to quickly go to a bathroom during their race, they do not have time on their side to be frantically hunting around to find a loo to only then see a long queue and be presented with cold water to wash their hands! However, here at Loos for Hire, we believe that every function, be it a sporting event, wedding, or party, should have clean and reliable toilets available for guests to use.
Our luxury toilets have broken the stigma of portable toilets not being suitable for classy and premium events. As Covid-19 restrictions ease across the UK, sporting events have slowly made a return, with high-class sporting events such as the Royal Ascot or Formula One being two of the largest of the summer so far. Having sufficient toilets at events like these is an important part of planning. So much so, that if measures are not adhered to, the events quite simply would not be able to take place.
However, with hygiene now being more pivotal than ever before, you may be wondering how large sporting events such as these can keep guests safe and offer suitable toilets that align with the luxury of the rest of the event. The answer is portable toilets that can cater to the luxury market, which allows sporting events to be held in a variety of locations and can allow more people to attend your event.
Our portable luxury toilets are fitted with numerous amenities such as mirrors, hand towels, premium soaps, paper towel dispensers, and LED lighting. Always remember, luxury events need luxury toilets! Fully self-contained, our premium toilets are perfect for both guests and event organisers alike, and only require a standard 13-amp supply to operate the lighting.

Now you know why you need to hire a luxury toilet for your next event, contact us at Loos for Hire today so we can find the best portable loo for you.