Portable Toilets Hygiene
If there is one thing that must always be cleaned to the highest standards its the toilet. This is an area that can be a real breeding ground for viruses, and if not cleaned well enough, illness can be contracted. This is no different for a portable toilet, either. Portable toilet cleaning is essential to ensure strict hygiene standards are met at all times.
Most Comfortable Option
The nature of the average portable toilet will usually mean it will have a high range of people using it, especially if it has been set up in public, for example at a festival, market or as a temporary option for a business whilst building work is taking place. These are often set up in people's front gardens if work is taking place in their homes, too. With this being the only toilet they have access to, they want it to be the most comfortable option until they can return to using their bathroom. Either way, hygiene is an important factor and they must be correctly cleaned. If they were not cleaned to a good standard they would become in very bad condition in a short amount of time.
Cleaning Process
One of the elements that will form a big part of the cleaning process when the portable toilet cleaning takes place is the use of the anti-bacterial spray. This is a very important step as it can help stop bacteria from multiplying at the rate it usually would and in turn reduce the lifespan of bacteria. Cleaning companies would usually use a heavy-duty anti-bacterial spray for such a purpose. The spray would be used on all surfaces of the portable toilet, including details such as door handles, toilet flusher switches and also the seats themselves.
Another step is a high-pressure hot wash. This removes dirt that has made its way into the portable toilet from outside. The hot temperature kills the living bacteria helping to create a cleaning procedure that helps to restore good hygiene.
Of course, emptying the toilet of all its collected waste is very important. To do this a high-pressure suction device is actioned. The machine works in a similar way a vacuum would and has a very large storing space to hold a large amount of waste it will be collecting up.
Toilet chemical fluid is also used. These are chemicals that are re-added to the system after each clean. The purpose of this exercise is to combat the human waste which contains germs, adding this chemical will help to kill off harmful germs and stop them from being able to spread.
Once the hole of the portable toilet is clean to a high standard of hygiene, the cleaner would then just need to make sure everything else is set up for use for further people wanting to use the portable toilet. All toilet paper should be stocked up as should hand soaps so no one gets caught short! There should always be a working drying method for users too, this is important to comply with current health and safety standards. When an allocated cleaner is attending to the toilet they may also use an air freshener to help freshen the area up for the next lot of users.
All of the above process' will apply for any portable toilets being cleaned where they are currently stationed at. However, this must also be echoed when the toilets are sent back after their use meets its end. So when the units are returned to the rental company they were loaned from, the cleaning process will begin again to make sure they are sanitised and in perfectly clean and working order for the next occupants.​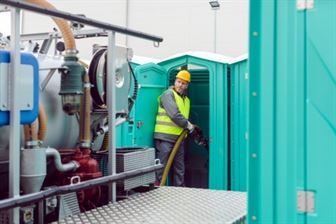 ​We hope that our blog has been informative, If you have any questions, please don't hesitate to give us a call on 0116 254 4999 or alternatively head over to our contact page to fill in the online enquiry form.