How Much Does it Cost to Hire a Portable Toilet?
Cost of Hiring a Portable Toilet

Are you setting up a temporary event? Maybe you're taking on a building project and need somewhere for convenient comfort every once in a while. No matter your needs, a portable toilet is something that you must invest in if there's no convenient toilet insight. A high-quality outside toilet can make all the difference. They're clean, easy to use, and above all, they are often very affordable.
Are you looking for cheap toilets? Maybe you'd like to know more about how much you could pay for an outside toilet. In any case, it is always worth consulting with local experts for the complete lowdown.
What Are Your Needs?

Ultimately, the price of a good portable toilet is going to depend on accessibility and other factors. For example, the bigger or more access-friendly a toilet is, the more you may need to pay. This doesn't always follow, however!
Portable toilets are available now at prices that businesses and events coordinators can easily afford. Rather than list all of our prices online, we make sure to encourage our customers to come to us directly for specialist quotes. This, again, is because the price of your portable toilet will vary depending on what you need, and when you need it.
Why not get in touch with us for a free quote? It never hurts to make an enquiry.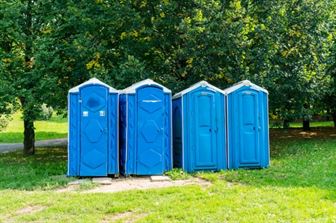 Why Hire a Portable Toilet?

Before you even start to look at prices, you may wonder what all the fuss is about. But not all events and public gatherings, for example, have easy access to public WCs. What's more, they aren't always the most hygienic!
That's where portable toilets come in handy. Modern outside toilets are cleaner and easier to use than ever before. We make sure that our toilets are thoroughly sanitised, and we also make sure to give users the support they need to wash up safely and thoroughly after each use.
A portable toilet is a great purchase for temporary events. However, there are also plenty of other reasons why you may wish to invest in your own toilet or portable bathroom facility!
Easy Work Access

Building sites and construction firms across the country rely on portable toilets. As you never quite know when the next site or project is going to pop up, it makes sense that you would invest in a system that's easy to deliver and always a breeze to set up.
Therefore, hiring a superb portable toilet could really make all the difference. Why not take a closer look if you don't yet have a brand or model in mind for your team?
Get in Touch

As mentioned, we offer a bespoke quotation service for all our customers. Need a toilet at a specific size for a specific length of time? We'll be happy to help. Call us or use our online form and get in touch at your convenience. So, if you are looking for a portable toilet solution, Loos for Hire is here for you. Visit our contact page or call us today on 0116 254 4999 for more information.