Hiring vs Buying a Portable Toilet
​In these difficult economic times, we're all looking for ways to tighten our belts, stretch our budgets and generally save money wherever we can. This applies to your expenses just as much as your business.
When you're running a business of any size, the bottom line is always a concern. Whilst many pieces of equipment show it's better to buy than hire, a portable toilet isn't one of them. If you need a portable toilet for an event or while the renovation is taking place, this is something that's always going to help your bottom line. So, what is portable toilet hire and what are its benefits?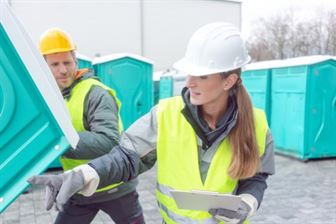 Why Choose Portable Toilet Hire?
It might seem like an obvious statement, but if you're planning an outdoor event, you're going to need to supply portable toilets for those who attend. Humans need to answer the call of nature. If you put events on regularly, then you might start to consider buying them instead, but wait. Whilst it might seem logical, too many companies fail to see the bigger picture. What do you do with all those toilets when they are not in use? Where do you store them? How do you maintain them?
Portable chemical toilets are a messy business to be in, often literally. They also require paperwork. If you need to transport the units between events, you will need to obtain a Waste Carriers Licence, which isn't free. This adds more expense and hassle that you probably don't need. Let's face it, running a business or event is hard enough. Let's not forget that given what happens inside a toilet, the outcomes need to be disposed of. It's a big ask of anyone who hasn't been trained in waste disposal.
Portable Toilet Maintenance
Not only do portable amenities need licensing, but they also need maintenance. They need some degree of maintenance even when they are not in use. Portable chemical toilets are made up of four different compartments. There are the seat and the flush mechanism. Also, they have a holding tank to hold, well…you know, and finally, the pressure system that makes it all work. They work in much the same way as the toilets in your house do, except that the deposits go to the tank, rather than the sewer.
The holding tank needs a special mixture of chemicals to break down the waste (including toilet paper), kill germs, and eliminate smells. It also needs water to flush the system, which needs to come from either an integrated water tank or the holding tank itself. All of these components need to be maintained and serviced. Not something you can ask the receptionist to do when they have a few spare minutes.
Hiring a portable toilet takes all of those problems away. They are going to be the experts when it comes to this and will have dedicated teams that are used to getting their hands dirty. From installation to maintenance, to understanding how many units you'll need for an event, how they can be serviced, and any legal or insurance considerations. When it comes to portable toilets, don't buy them, hire them. It's the only way to go.
If any of our products or services interest you, please give us a call on 0116 254 4999 or fill in the enquiry form on our contact page today.